Spinach Gnudi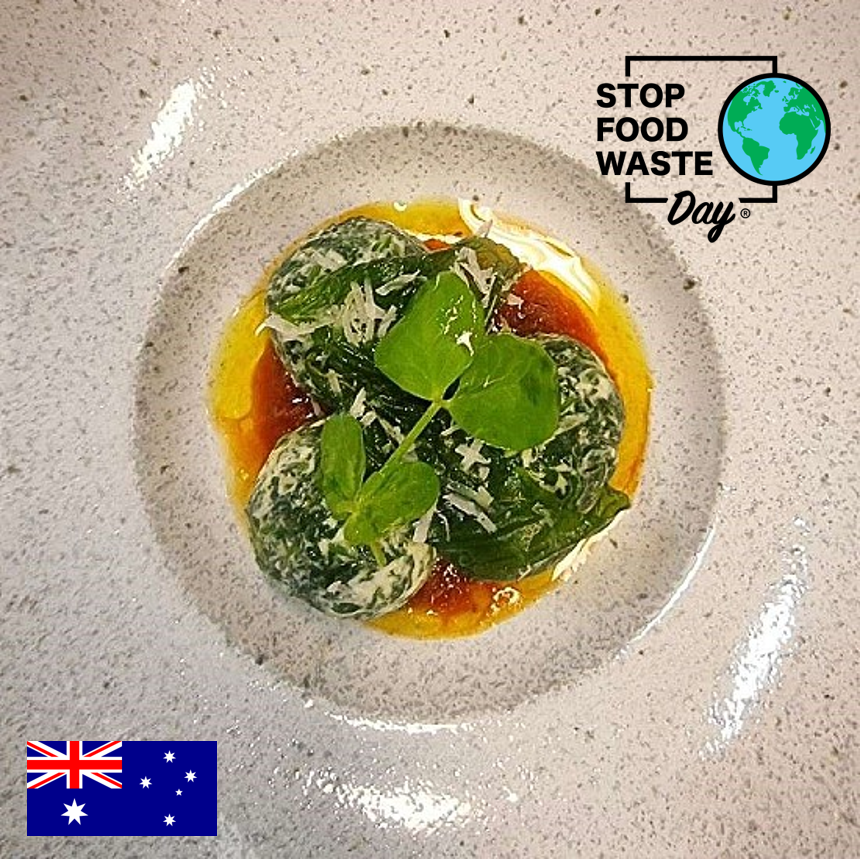 INGREDIENTS
340g ricotta
340g spinach
1 egg
60g plain flour
30g parmesan, finely grated
Pepper (to taste)
1 garlic clove
400g whole Roma tomatoes, diced
100ml olive oil
15g sugar
Salt (to taste)
Chef Ian Fortini works for Compass Group in Australia. He has created this waste-free recipe for Spinach Gnudi. You could also make your own ricotta cheese to use up an excess of milk, or perhaps milk that is slightly on the turn. Speaking of his recipe, Ian had this to say:
"In the late 40's and 50's, there was a big influx in Immigration from Italy to Australia. This resulted in a changing, now immensely popular contribution to the Australian food culture.
This recipe aligns with the thinking which was prevalent during the times of immigration straight after WW2 where wasting food was not an option out of necessity.
Using every bit of the food you are able to source wherever possible is showcased here where we use all of the spinach, stems included."
METHOD
Place the ricotta in a strainer and leave to drain excess liquid for around an hour.
Place spinach in a bowl, pour over boiling water and leave for a couple minutes to wilt.
Drain the spinach and squeeze out as much water as possible, moving it around then squeezing again. Finely chop the spinach.
Pat dry the ricotta to remove any drained liquid then put it in a bowl with the spinach, egg, flour, parmesan and pepper. Mix all together then cover and refrigerate for ideally 2 hours.
Once it has rested, take a spoonful of the mixture at a time (I use a tablespoon measure to get roughly even size) and with slightly damp hands, roll into a ball and chill the prepared Gnudi for a couple hours until you need to cook them, or cook straight away.
For the tomato salsa, heat oil, sauté garlic add tomato and sugar. Simmer for 30 mins.
Bring a wide, shallow pan of water to the boil. Add a few Gnudi at a time to the water, keeping the water over a high heat so it continues to boil.
When the Gnudi rise to the top, remove with a slotted spoon to an oiled bowl and repeat, cooking in batches.
Serve with tomato salsa and grated parmesan.