Roasted Vegetable and Mozzarella Flatbread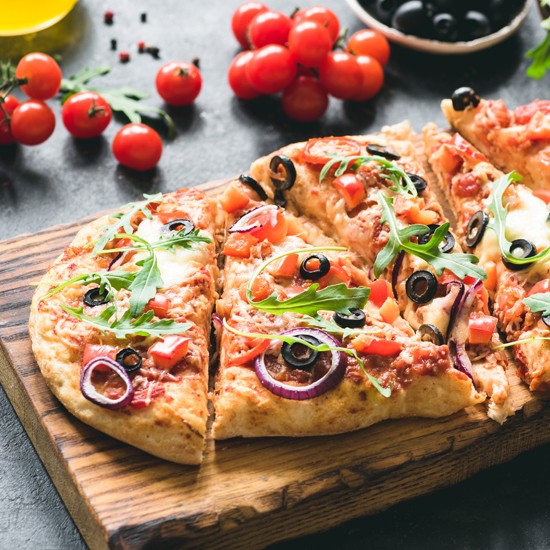 This is a great way to use up leftover flatbreads, naans, tortilla wraps or pizza dough. Break up some mozzarella or grate and mix random chunks of other hard cheese. Involve the children in making their own: just lay out bowls of toppings for them to choose from and let them create their own versions.
INGREDIENTS
2 to 3 cups vegetables (use whatever you have in your fridge such as red peppers, asparagus, tomatoes, spinach, diced onions, etc
¾ -1 cup tomato sauce (leftover marinara, meat sauce, pizza sauce, etc.)
3 to 4 tbsp water
4 flat breads, naans or pizza dough
2 cups shredded mozzarella (or use up other leftover chunks of cheese)
4 tbsp torn basil or oregano
METHOD
Preheat the oven to 350 degrees F.
Chop the vegetables into small pieces that will be easy to spread on your flatbreads. Set aside.
In a bowl, mix the water and the tomato sauce. Add 3 or 4 tbsp of water depending on the amount you have and the desired thickness. Add enough to make a spreadable base.
Prepare the flatbread: divide the sauce between the flatbreads. Place onto a baking tray and move to step 6 below.
If using pizza dough: flatten and place onto a greased baking sheet. Par-bake for 3-5 minutes and remove from the oven. Top with sauce and move to the next step.
Next, evenly spread the ingredients (except the herbs) over the flatbreads. Top with shredded cheese.
Place into the oven and bake for 5-6 minutes or until the cheese has melted and the vegetables are heated through.
Remove from the oven and sprinkle the herbs over top of the flatbread.
Cut into your desired serving size and enjoy.