Poulet Ballotine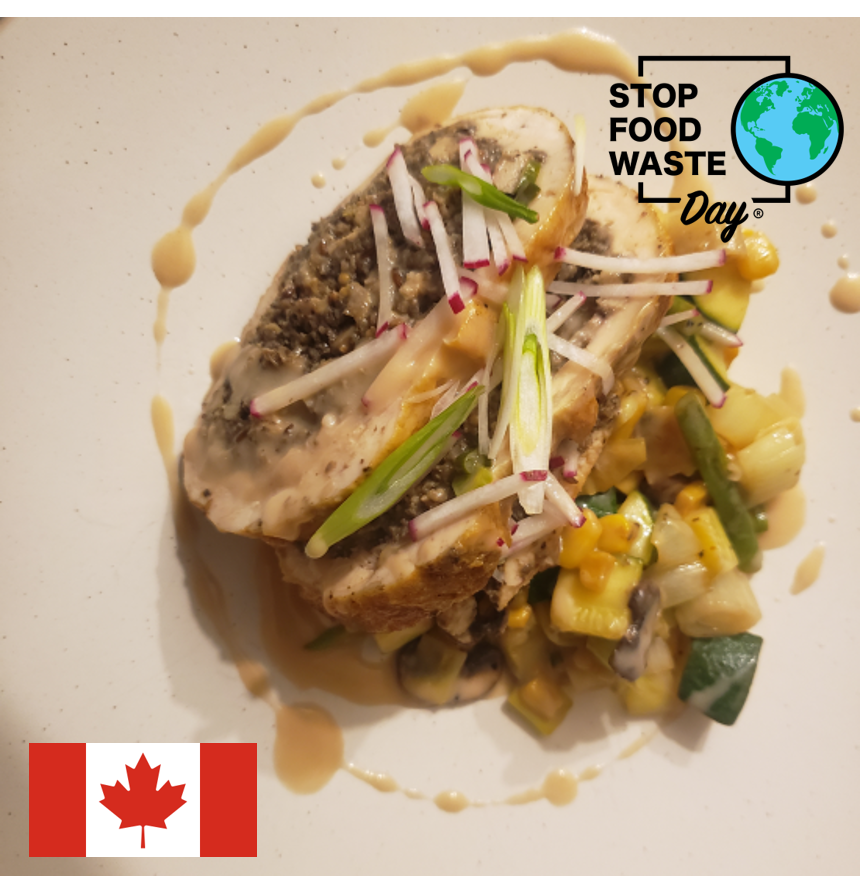 INGREDIENTS
1 whole chicken
1tbsp whole all spice
2 bay leaves
1 sprig fresh thyme
1 small onion or French shallot
1 tsp whole black peppercorn
1lb cremini mushrooms
¼ cup white wine or sherry
2 stalks celery, minced
2 tsp dry thyme
2tsp fennel seeds
2 tbsp olive oil
1tbsp flour
1tbsp butter
Salt and pepper as needed
Julienned radish and scallions for garnish
To serve:

Serve with sauteed vegetables or succotash, garnish with radish and scallion. Sauce on the side for family style or on the plate if individual.
Michael Hadid, Executive Chef, Compass Group Canada had this to say of his sophisticated chicken recipe that makes use of the whole of the bird:
"I loved eating at French restaurants growing up in Montreal, and French food still has a special place in my heart.
When I decided to become a cook, I was given this challenge by the chef I was apprenticing under. It's a fantastic use of a whole chicken and has a fun technical component to its preparation. The entirety of the chicken is used in one dish, including bones and skin. The chicken is skinned and boned out. The skin is lined with the white meat and stuffed with mushrooms duxelles and minced dark meat. The whole thing is rolled up and roasted until done. Bones are used to make chicken stock which is then turned into a sauce Velouté for serving."

METHOD
Bone out the Chicken and make Stock:

Skin the chicken, keeping the wings attached, so that the skin comes off in one whole piece without tearing.
Remove the breast meat and leg meat from the bones. Reserve.
Cover the carcass in a pot with water, add onion, all spice, bay leaves and fresh thyme. Simmer.
To make the stuffing:

Mince the mushrooms, stems included, in a food processor.

Mince the dark meat in a food processor.
In a hot large pan, add oil and fennel seeds. Toast until fragrant.
Add mushrooms, minced dark meat, dry thyme, season with S&P. Cook until any released liquid has evaporated.
Deglaze with wine or sherry, reduce to dry.
Off the heat fold in the minced celery.
Stuff and truss the chicken:

Butterfly and pound flat the chicken breasts.
Lay the reserved chicken skin flat on a cutting board, inside facing up.
Brush skin with 1 tbsp evoo and season with remaining thyme, S&P.
Lay the flattened breast meat down onto the skin making sure to cover the skin entirely, overlaps are ok.
Spoon the stuffing down the centre onto the breast meat.
Roll the skin and breast meat around the stuffing, pulling down on the ends to completely encapsulate the stuffing. Use butcher's twine to tie it all together.
Roast seam side down at 400F until golden brown and cooked through. (Optional: sear first in a pan then roast.)
Finish the sauce:

Strain the stock liquid from cooking the chicken and reserve. You should have about 2 cups of stock. (Reduce or add water as needed.)
In a small pot make a blonde roux by gently cooking the flour and butter until it smells like cookies. No colour.
Whisk the stock into the roux and simmer until thickened.
Adjust the flavour and seasoning.