Potato Nachos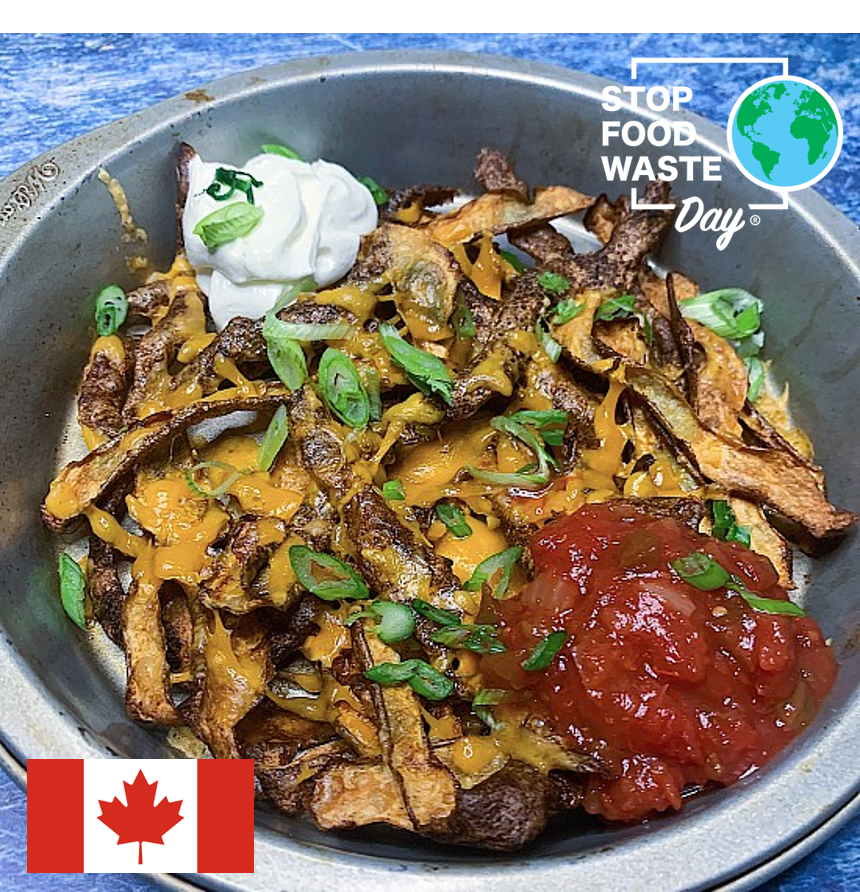 INGREDIENTS
2 cups potato peels (from approx. 8-10 russet potatoes)
2 tbsp vegetable oil
1 tsp kosher salt
½ tsp smoked paprika
¼ tsp onion powder
¼ tsp chilli powder
1 cup cheddar cheese, shredded
1 green onion, thinly sliced
Who doesn't love nachos?! This creative recipe makes excellent use of potato peels and was send to us by Tyler Hallam, Regional Executive Chef - Compass Group Canada:
"Vegetable skins/peels – particularly potato – are one of the most commonly discarded items during food prep. Although potato peels can be easily composted, why not make the most of this flavourful and nutrient-rich ingredient that is so often overlooked? This is a classic comfort food shared dish in restaurants across Canada.
Potato peels can be fried – like chips – or they can be baked. For this particular recipe, we've baked the potato peels until crispy, and then added some simple toppings. Just like nachos, you can customize the flavours and toppings however you like. Be creative and enjoy this classic family favourite!"
METHOD
Preheat oven to 400F.
Gather 2 cups worth of potato peels from approx. 8-10 russet potatoes.
Bring a small pot of water to a boil. Blanch the potato peels for 30 seconds. Remove peels and place on paper towel. Pat dry.
In a medium sized bowl, toss the potato peels with the oil, salt, and spices until evenly coated.
Spread potato peels out evenly on a baking sheet in a single layer. Bake in the oven until very crispy, about 15-20 minutes.
Remove the trap and sprinkle the cheese over the potato peels evenly. Place back into the oven and bake until cheese is nicely melted, about 2 minutes.
Remove and garnish with green onion (and any additional toppings as desired). Serve with sour cream and salsa.