Pasta Stuffed with Sausage and Onion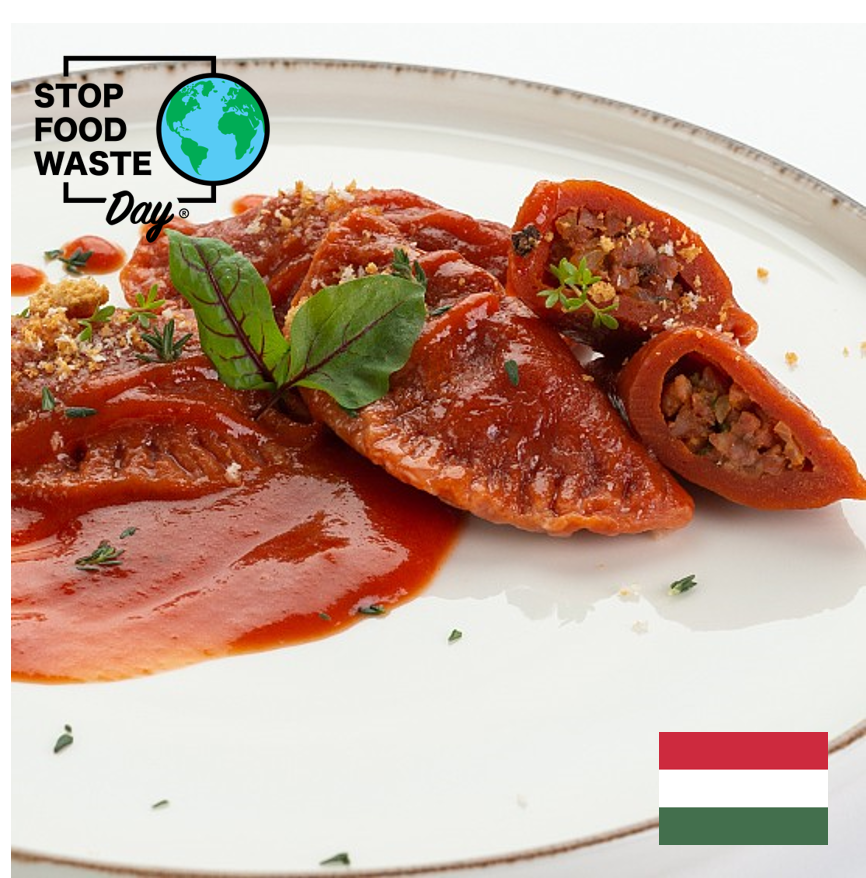 INGREDIENTS
150 g dry paprika sausage
120 g onions
350 g fine flour
180 ml water
1 egg
60 g tomato purée
1 pinch salt
600 g fresh tomatoes
4g fresh thyme
30 g granulated sugar
100 g (2 slices) dry bread
30 g garlic
Check out this traditional Hungarian dish from Chef Norbert Jónás, from Eurest in Hungary. We love that it combines traditions handed down through the generations with a modern approach to making best use of produce. Speaking of the recipe, Norbert told us:
"This dish contains all the popular ingredients found in most kitchens in Hungary. Most Hungarians love pastas which have been kneaded and rolled by our grandmothers at home for generations.
Onions, smoked sausage and tomatoes have always been at the centre of Hungarian cuisine. It often happens that following a bumper crop in the vegetable garden a few tomatoes are left in the fridge or a small piece of sausage languishes in the pantry. Sadly, dry bread often ends up in the bin. In this dish, we make use of those items. It's a dish that requires no special skills and is fun and easy to make together with the children."
METHOD
Finely chop the sausage. Fry on a low heat and add the finely chopped onion, fry together and season with a little salt.
Knead the pasta dough: flour – water – tomato purée – salt, leave to rest for a while and then roll the dough out and cut circles out of it using a pastry cutter.
Place a teaspoonful of sausage stuffing in the middle, wipe the edges with a beaten egg, fold and pinch together. Push the edges together with a fork to make sure they are tightly closed. Boil in water for 4-5 minutes.
Score the skin of the tomatoes, pour boiling water over them and peel, then chop up the skinned tomatoes and rub through a sieve to remove the seeds. Boil the tomatoes with a little sugar into a jam, then season with thyme.
Spread garlic oil over the slices of dry bread and toast in the oven until they are crunchy and golden brown. Crumble the seasoned bread over the finished dish. Decorate with fresh herbs.