Lamb and Eggplant Fattah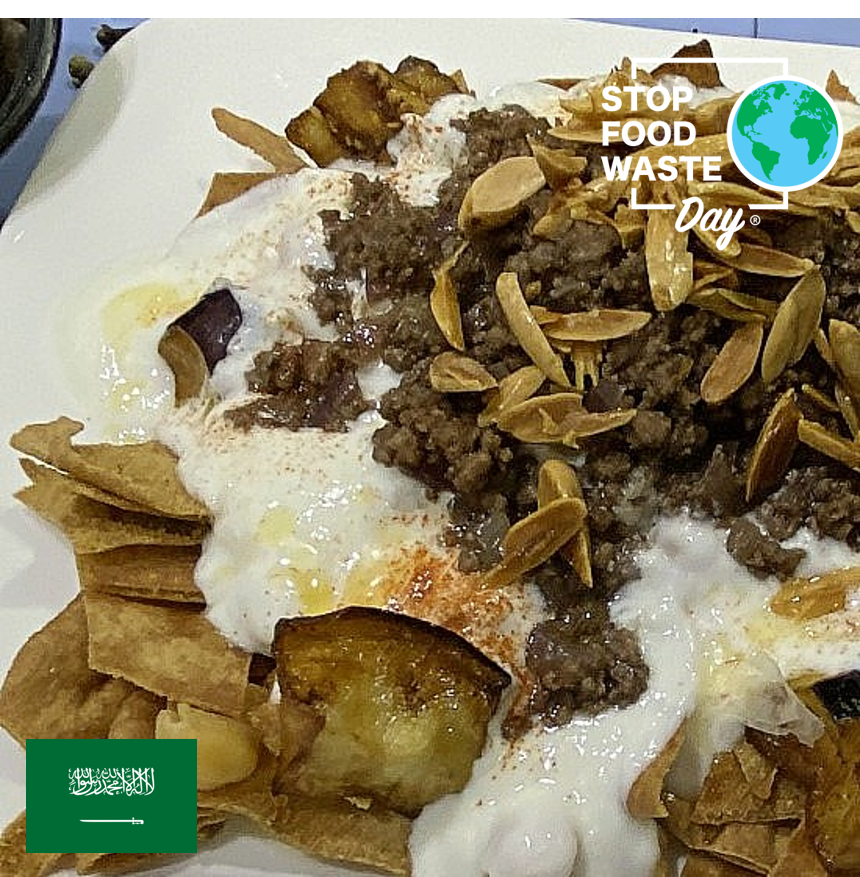 INGREDIENTS
800g whole wheat Lebanese bread (or other flat bread)
Fattah filling:
300g chickpeas
5g bicarbonate of soda
300g eggplant
400g minced lamb
70g chopped onion
60ml corn oil
30ml pomegranate molasses
5g cinnamon powder
5g black sweet pepper
Salt to taste
Yoghurt:
500g plain yoghurt
25g crushed garlic Salt
For garnish:
40g nuts
10g Paprika
This traditional recipe makes use of day-old flatbreads and is highly adaptable, depending on what vegetales you have available. Ahmed Atef, Chef de Partie, Compass Group Saudi Arabia tells us this, of his recipe:
"The ancient Middle Eastern dish Fattah combines hummus, chickpeas, pita, and yogurt, and is popular at iftar, the break-fast meal at sunset during Ramadan. Some versions of Fattah include eggplant or zucchini; others are made with chicken or lamb, caramelized onions, even tomato sauce. This one begins with hummus, which is layered with toasted pita, fried eggplant, minced lamb, yogurt sauce, chickpeas, and roasted nuts.
In this recipe we could toast and save daily additional Arabic breads in a closed container and use later in our Fattah recipe."

METHOD
Bread:
Cut the Lebanese bread in 3 cm square.
Spread the bread onto an oven tray and toast it on 170~c until golden color and crispy.
Fattah Filling:

Soak chickpeas in cold water on room temperature for 8 hours.
Wash and boil the chickpeas with bicarbonate of soda on low heat until well cooked.
Season with salt cumin and keep hot on side.
Peel and cut the eggplant into 2 cm square.
Season with salt and pepper.
Deep fry until golden color and then

set aside.

In another pan, add olive oil onion and stir until transparent.
Add minced lamb and cook on high heat.
Season with salt, cinnamon powder, and black sweet pepper.
Turn off the heat.
Add pomegranate molasses, drained boiled chickpeas and fried eggplant.
Keep hot.
Yoghurt sauce:
Mix the yoghurt with crushed garlic and season with salt.
Keep in room temperature before use.
To finish:

Layer the prepare items on serving plate.
Place the crispy bread in warm serving bowl.
Add hot boiled chickpeas with water.
Add the fried eggplant.
Add the yoghurt sauce.
Add the prepared lamb.
Garnish with toasted nuts and paprika.