Burnt Broccoli Caesar Salad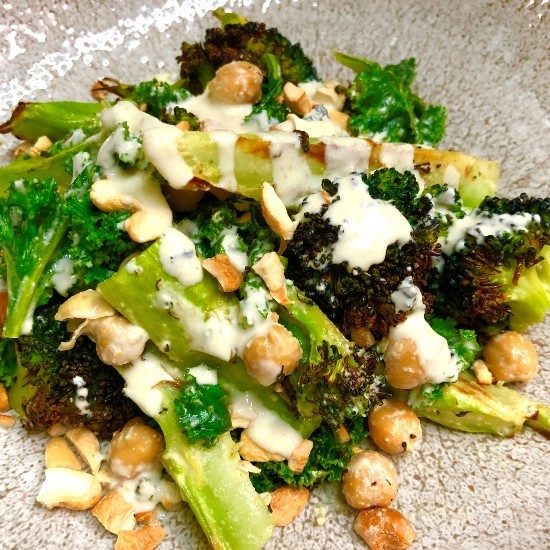 If you love a Caesar Salad, you're going to love this creative take on the traditional method. Using the whole of the broccoli, including the stalks, along with super-healthy kale and a delicious plant-forward Caesar-style dressing, we're sure it'll soon become a favourite!
INGREDIENTS
Cashew Caesar dressing:
60g leftover/broken cashews
12g capers
3g garlic powder
10ml rapeseed oil
1 lemon
1tsp Dijon mustard
Burnt Broccoli Salad:
1 quantity of the Cashew Dressing
300g broccoli, including stalks
20g cashews
60g chickpeas
1tsp cayenne pepper
1tsp garlic powder
10ml rapeseed oil
1 lemon
METHOD
For the dressing:
Soak the cashews in boiling water (Just enough to cover) for around 30 minutes. Juice the lemon. Drain the cashews, reserving the water. Place the cashews, capers, garlic powder, oil, lemon juice and mustard into a blender and puree until smooth, adding the reserved water if required, to get a more liquid consistency.
For the salad:
Prepare the broccoli into florets and slice the stalks.
Dress with 10ml oil and place into a suitable roasting tray.
Remove the stalk from the kale and roughly chop. Squeeze lemon juice over the chopped kale and massage in with your hands.
Place the broccoli in a preheated oven for 5 minutes at 200C.
Coat chickpeas with oil, garlic powder and the cayenne and roast in the oven for 20 minutes until golden.
Assemble the salad by combining the kale and broccoli. Garnish with chickpeas, the dressing and the cashews.