Beef & Cheese Tacos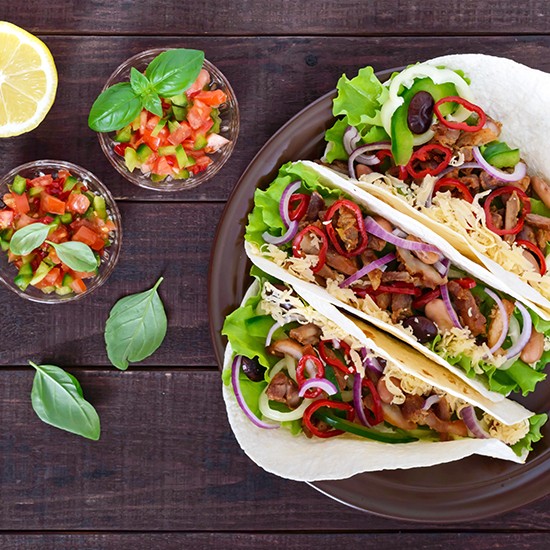 Who doesn't love a zingy tasting taco to wake up the senses? This recipe can be made using leftover burger patties and adapted according with your favourite toppings.
INGREDIENTS

12-16 oz. ground meat (leftover burgers, or use ground beef or pork or a mix of both, etc)
¼ cup water
2 tbsp taco seasoning
4 tbsp chopped cilantro/coriander (including stems)
8 x 6 inch flour tortillas
TOPPINGS:
4 tbsp shredded cheddar cheese
Chopped red chillies to taste
Finely sliced red onion to taste
4 tbsp salsa
METHOD
If using leftover cooked burgers: Crumble the burger patties into bite-sized pieces
Heat a saucepan over medium-high heat. Add the burger pieces or ground fresh meat and the taco seasoning. Mix to incorporate.
Add the water and stir. Allow the water to evaporate and the meat to heat all the way through.
In a separate pan or skillet over low heat, heat the tortillas until pliable and warm.
Working in batches, heat all of the tortillas and place 2 on each serving plate.
Divide the meat evenly among the tortillas.
Sprinkle generously with the toppings, or allow your guests to add their own. Serve and enjoy!