Beef Birria Tacos with Consommé, Rice & Beans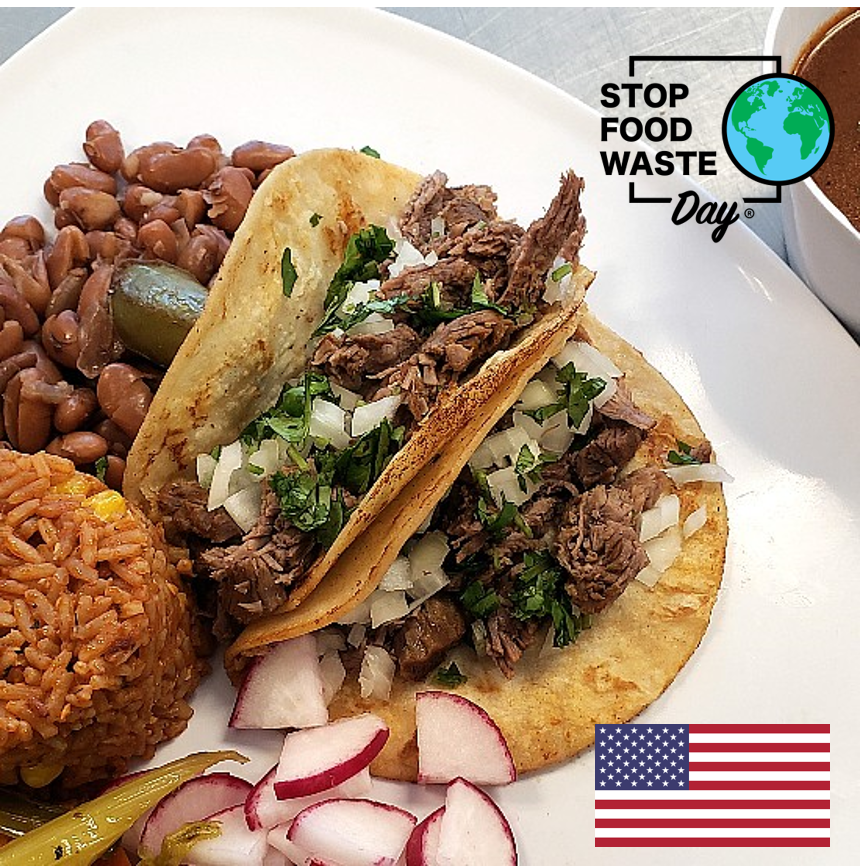 INGREDIENTS
Spanish Rice:
2 cups parboiled rice
2 tsp minced garlic
2 cups water
½ cup of corn (optional)
¼ cup of canola oil
½ tsp cumin
½ cup tomato paste
½ tsp dried oregano
2 bay leaves
Salt to taste
Pinto Beans:
2 cups pinto beans
1 jalapeno
2 bay leaves
4 garlic cloves
Salt to taste
Escabeche:
2 carrots
2 celery ribs
3 jalapeno
½ white onion
¼ cup canola oil
10 garlic cloves
1 cup white vinegar
½ cup white sugar
½ tsp Mexican oregano
½ tsp whole black pepper
Salt to taste
Salsa:
5 tomatoes
3 jalapeno
1 ½ white onion
3 arbol chile dried
6 guajillo chili dried
10 garlic cloves
1 bunch cilantro/coriander
4 cups canola oil
4 cups water
Salt to taste
Birria Tacos & Consommé:
3.3 pounds beef shank
4 ½ guajillo peppers dried
½ cup white vinegar
1 can chipotle peppers in adobo
10 garlic cloves
2 tsp Mexican oregano
2 tsp cumin
3 tomatoes
2 white onion
3 quarts beef stock
2 cinnamon stick
3 bay leaves
carrots and celery trimmings (leftover from ingredient lists above)
Salt to taste
Taco Toppings:
12 corn tortillas
½ white onion, thinly sliced
1 bunch cilantro/coriander, roughly chopped
3 radishes, thinly sliced
Justin Hebblethwaite, General Manager, Blizzard Entertainment, Irvine, California, Compass Group USA:
"Living in Southern California, Mexican and Central American cultures are represented both locally and within our kitchens. We wanted to share a recipe that's brought us together since returning to work after COVID. We love preparing this for our kitchen 'family meal' and are so happy to share it as a great representation of the southwest united states.
Since returning to work, our family meals have really taken on a sense of purpose. Firstly, we set about use what was left over from service the day before and any potential waste from prepping the daily menus. The second reason was to bring our remaining staff together (while practicing social distancing) for a hearty meal. This has not only helped the team grow and become stronger, but it's also a meal that everyone looks forward to every day.
This dish is truly a zero waste dish. If any ingredient has been trimmed or strained and not used in another component of this dish, it can go into a compost. Peels, stems can be used in the Consommé or Escabeche."
METHOD
Spanish Rice:
Add oil to hot pan.
Add rice to pan and mix with oil.
Lower heat to simmer.
Add minced garlic.
Incorporate tomato paste with water.
Add tomato water into rice.
Add bay leaves, corn, cumin and Mexican oregano to rice.
Stir and incorporate rice.
Cover pan for 30 min.
Add salt to taste.
Pinto Beans:
Add beans to pot.
Add water until covering ½ of beans.
Add onion, jalapeño and bay leaves.
Bring water to a boil until beans are soft (about 45 minutes).
Add salt to taste.
Remove garlic, onion and jalapeño for salsa.
Discard bay leave.
Escabeche:

Peel carrots and cut in rondelle, save peels for consommé.
Clean celery and cut into batonnets, save trimmings for consommé.
Quarter jalapeño.
Clean onion and cut julienne, save ends for consommé.
Add oil to hot pan.
Sauté vegetables until al dente.
Add vinegar, sugar and black pepper.
Mix all ingredients until at a boil.
Cool in fridge.
Salt to taste.
Salsa:

Bring oil to 350 degrees in pot.
Add jalapeño, onion and garlic to oil until translucent, remove from oil.
Rough chop tomato.
Bring water to boil in pot.
Add tomato, guajillo and Arbol to boiling water for 10 minutes.
Strain ingredients from boiling water.
Add all strained ingredients into blender and add cilantro.
Blend.
Cool salsa.
Add salt to taste.
Birria Tacos & Consommé:

Add 3 quarts beef stock to soup pot over high heat.
Add guajillo, tomatoes, onion, cinnamon sticks, carrot trimmings, celery trimmings, garlic, chipotle peppers and bay leaves to stock.
Small rice beef.
When ingredients in soup pot are soft, strain items and blend thoroughly.
Reincorporate mixture in blender into soup pot, lower heat to medium.
Add small dice beef, vinegar, Mexican oregano and cumin.
Cover soup pot for 2 hours on low heat.
Strain out beef and set aside.
Plate two corn tortillas and top with beef.
Assemble tacos as desired.