A Conversation with Chef Jeffrey Quasha for Chef Appreciation Week
In honor of Chef Appreciation Week, we will be honoring some of our favorite food waste warriors, our chefs. Since Stop Food Waste Day's inception, chefs have been the backbone of our movement, and their voice and skill have helped elevate our cause. We thank you this week and every week for making withstanding change in our food system. And as many of you know, you will never meet a chef that wants to waste food. Follow along on our account all week for highlights and thoughts from some of our favorite Food Waste Warriors.
The first chef we are honoring is Chef Jeffrey Quasha. Chef Quasha is the Director of Culinary Retail Innovation at Morrison Healthcare. Check out our interview with him below!
What inspired you to become a chef?
I actually went to college-level art schools while in high school and later went to Florida State's School of Art. While in college I had to work so I always cooked. It was during this time that I started to apprentice under some amazing chefs. I quickly realized that cooking was like painting that a plate of food could inspire the same response as a painting on a wall. That's when my career started to take off, I realized that no task was too small, I needed to take notes daily, and even if I wasn't working a particular station I would watch and learn what the more skilled cooks and chefs at the time were doing. After years of working in the industry, I decided that I needed a formal education in culinary arts and officially start down the road of becoming a chef.
What is your all-time favorite meal, and why?
Anyone that I don't have cook! When I was in culinary school Martin Yan did a cooking demo. I asked him after his demo what advice would you give to an inspiring culinarian. He said never criticize the food that someone prepares for you. Be grateful for each prepared meal or be ready for people not to cook for you! My favorite meals have to be the ones that make the whole house smell amazing. Dishes like braised short ribs, cassoulet or even osso bucco that take hours to slowly simmer and reach perfection are truly an art.
Why does reducing food waste matter to you?
Our food supply is dwindling because of population increase, climate change, the loss of the family farms and demand is through the roof. For a parent of two small kids, I want to make sure that our kids and their kids have a future that is rich with sustainable seafood, fresh fruits and vegetables ( even the ugly ones) and they are educated about global cuisines. Chef's need to menu with intention. Meaning, they need to make sure that every ingredient brought into their operation serves at least three purposes.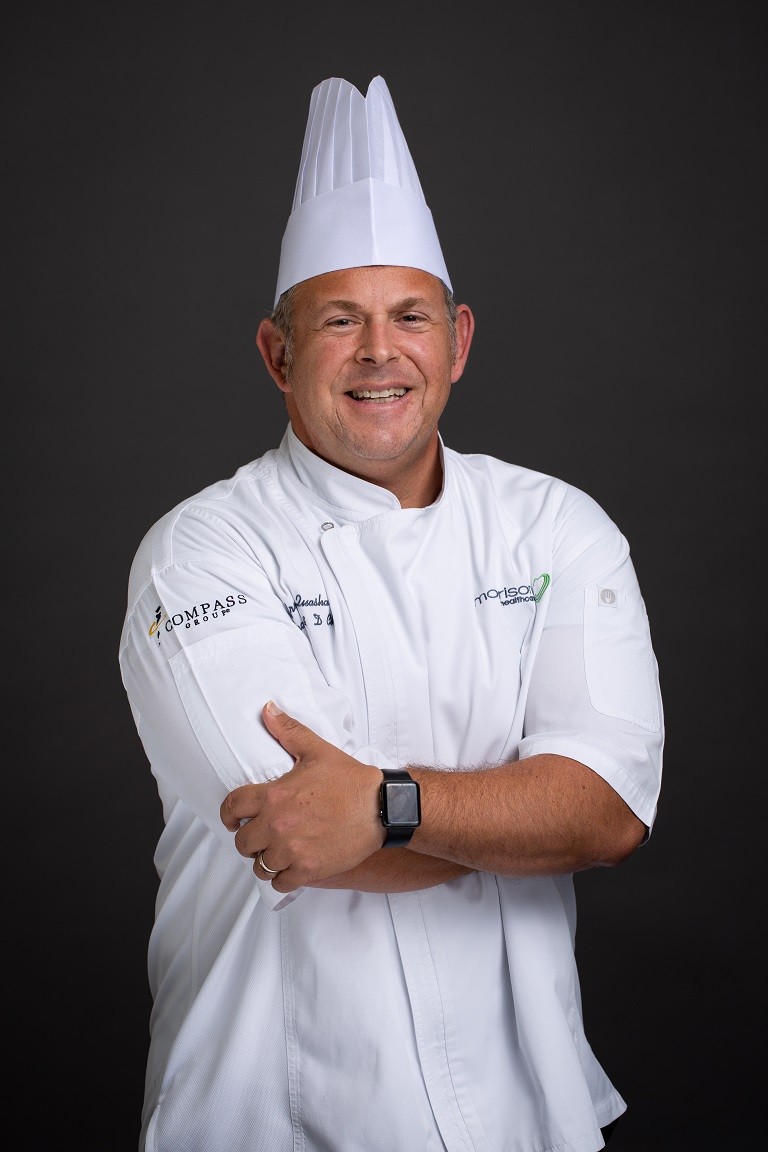 Jeffrey Quasha, Director of Culinary Retail Innovation at Morrison Healthcare
What are your favorite tips/tricks to reduce food waste?
Recently we launched 5 new pop concepts called super brands or veggie brands based around a single ingredient or in our case a vegetable. For these concepts like Beet Root, Cauli Club and Carrot Greens we asked our chefs to buy whole vegetables that have been pre-cut or fabricated. The goal is to show our teams that every part of the vegetable from leaf to stem can be cross utilized. The carrot greens or beets greens form the based of the salads that garnish the entrée vegetable dishes. The scraps from the roasted vegetables get pureed into the hummus that becomes an appetizer for the concept.
If you could give your past self advice, what would you say?
Food is a gift from the land, ocean and sky that should be appreciated and valued. Everyone needs to do their part to slow food waste. I wish I learned earlier in my career that the food supply wasn't indefinite and shouldn't be taken for granted.