A Conversation with Fedele Bauccio, CEO and Cofounder – Bon Appétit Management Company
What inspired your passion for sustainability and reducing food waste?
My passion for creating a more sustainable food system was a founding principle of Bon Appétit. It's part of our Dream statement that all of our operations are conducted in a "socially responsible manner for the well-being of our guests, communities, and the environment." Food waste is a key contributor to climate change, which is something I am deeply concerned about.

I had an "aha" moment about waste in particular more than 10 years ago. I was touring a farm and saw piles and piles of lettuce lying unharvested in the field — it may have literally been tons. It was normal waste from the harvesting process, but I couldn't believe how much edible fresh food was left on the ground to rot. While I knew waste occurred during the harvest process, seeing the scale was profound. I knew something had to be done. Since then, I've been passionate about reducing waste in our supply chain and in our kitchens. After that experience, I told my team that we needed to do something, thinking that if our chefs could just get their hands on that produce that they could turn it into something delicious and save it from going to waste. So we started talking to farmers of all sizes across the country about how we could work to reduce food waste on the farm and in our supply chain. We launched our Imperfectly Delicious Produce program to save underappreciated and underutilized parts of fruits and vegetables from going to waste and began partnering with farmers and suppliers to address the problem. Through this program, we also work with farmers on harvest methods such as implementing a second harvest when viable. So far, that program has saved over 8 million pounds of produce from landfills.

How have you been able to inspire change?
At Bon Appétit, waste reduction is a cultural value. Every single employee receives annual training to learn about the social and environmental impacts of food waste. We don't reduce waste simply because it's a good business practice; we do it because it's the right thing to do for people and the planet. This fosters a culture in which our employees feel empowered to voice ideas and opinions on how to reduce waste in the future. We also have tools to inspire behavior change and track data to show that change. We developed a patent-pending waste tracking program for our chefs that Compass Group adopted and is now using in kitchens around the country. Not only does it help us understand where there are opportunities for waste reduction at each unit, it shows our teams how small actions can lead to big results. We show our progress in an easy-to-read dashboard so anyone in the kitchen can see how we're doing, and we can easily share data with our clients.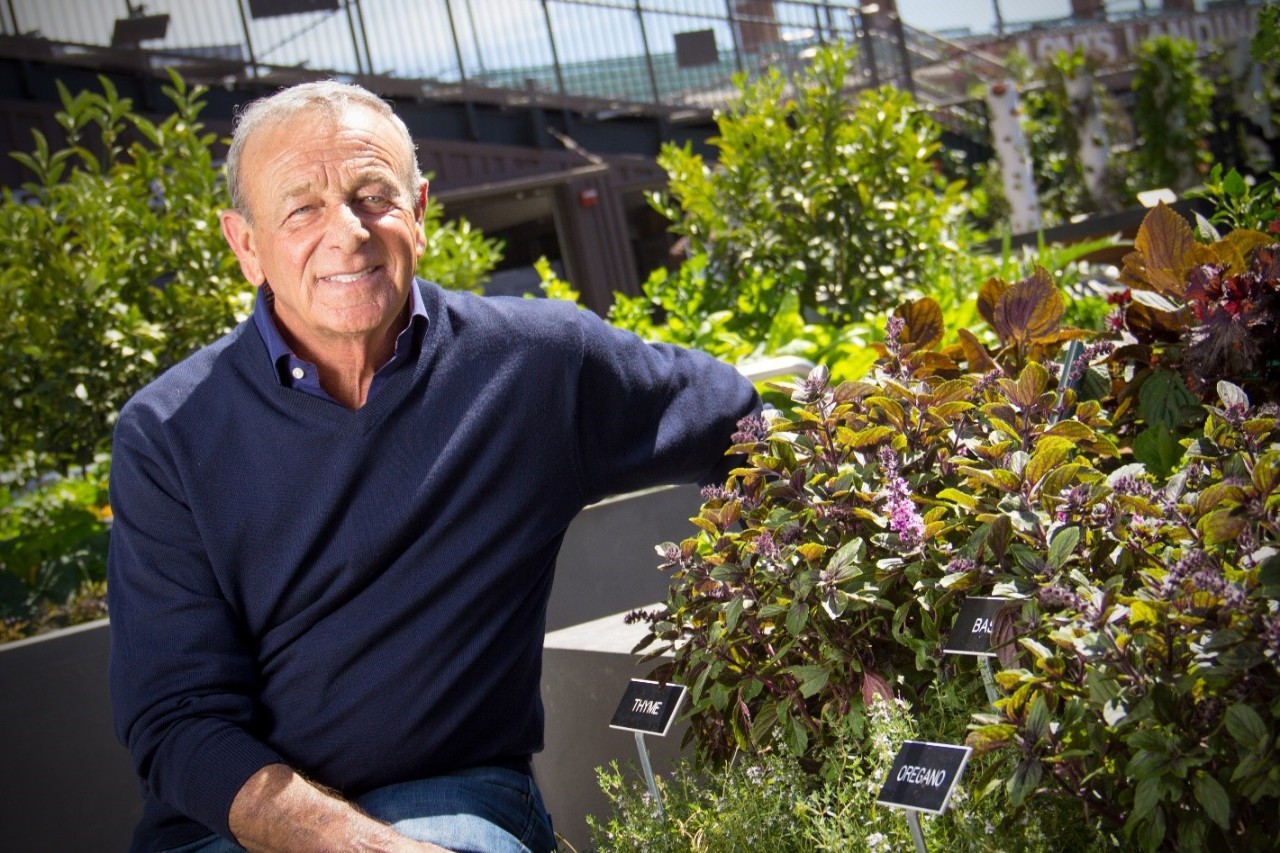 Fedele at The Garden at Oracle Park, the first on-site garden at a Major League Baseball venue.
What is one small change every person can make in their daily lives to make a big difference?

You've probably heard the phrase "your eyes are bigger than your stomach." It's what happens when you fill your plate with more food than you need and then throw out what you don't finish. Thinking in advance about how much food your put on your plate can have a profound impact on food waste. ReFED, the nation's leading food waste reduction advocacy organization, estimates that over 70% of waste in food service comes from guest plate waste. This means every person dining with us has an opportunity to help us significantly prevent and reduce food waste in our cafés. It can take some practice. Try taking only what you know you can finish and ask for the appropriate portions for your hunger level. If possible, pack up what you can't finish and make sure to eat it once at home. Food can't be donated once it has hit your plate so at that point every person dining with us has a responsibility to help us keep that food out of compost bins and landfills.
What's your go-to food waste hack that you use the most in the kitchen?
I always save my vegetable trimmings and bones for broth or stock. Most vegetable bits and bobs can be saved in a bag in the freezer for making a delicious stock. My favorite secret ingredient? Parmesan rinds! They add an incredible savory flavor to stocks and soups. (Though many other hard/salty cheese rinds work, like Pecorino Romano.) If you're looking for more ideas, I also recommend Dana Gunders' Waste Free Kitchen Handbook. It's a great go-to guide on how to prevent waste at home.